**Revised to add the Tier Chart below!
Most of you may recall the changes I made in January regarding my credit values, and the number of audios I would be releasing per month.  I felt like I needed to have a little more time and not feel so rushed every month, so I decided to reduce my output to 3 Audios per month, which I've been doing just fine.  But, lately I've been struggling with the need to do more, because only making 3 releases a month turns out to be more limiting than I had anticipated. 
So effective this month, I am increasing that to 4 Audios per month!  More is good, right?!?  But more content means that the Monthly Potluck Tier is going up slightly in price, so I figured it's best to do this at the same time.  
I'm also bringing back the Scriptwriter tier.  Some of you may be aware that I retired that tier in January when my rates for the new year went up.  I did this because the old tier was still based on rates from like 2017, and nowhere near in line with my current rates for recording scripts. So after some thought, I've created a new Scriptwriter Tier, and welcome anyone who wants to start submitting Patreon friendly scripts to join it! It offers a 20% discount off of my standard Commission Rates.
Here is a quick fact chart of how each tier operates, which might make it easier to understand. (You can download this in pdf format below – see Attachments):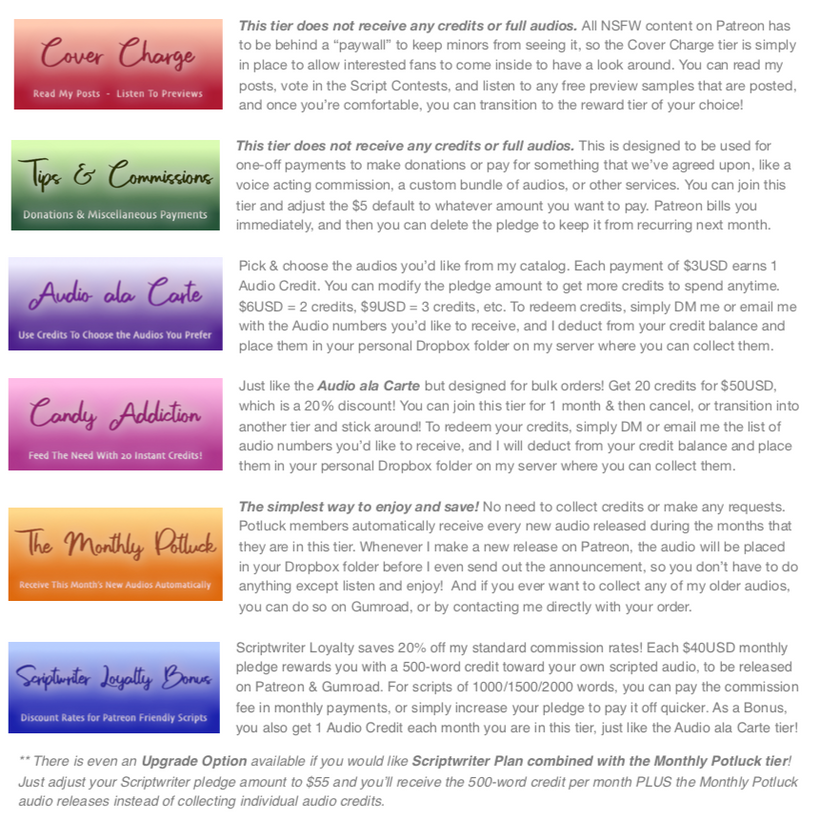 I'd like to point out that the Potluck Tier is not only a good deal, given that you receive a discount off the full price of the audios you receive, but it's where most of my loyal fans end up because they've used credits (or Gumroad) to collect the older audios they want, and now they just want to keep receiving everything new that is released without having to worry about keeping track of credits or making individual requests.  Potluck members receive everything that I releases each month they are in that tier.  Audios are automatically available in their dropbox folders at the time of release. So easy!
If you have any questions, you are always welcome to DM me or email me at candy@voicelikecandy.com